Polyurethane Injection Machine
Great Foam Group has been producing our own PU Injection Machine since the early 1990s and we are granted a patent for the machine in 1999. Great Foam ranges of PU Machine includes Low Pressure Machine and High-Pressure Machine.
Our services also stretch out to designing of the production line, conveyor line, and other supporting machines such as Hardness Testing Machine, Vacuum machine, and crushing roller machine. Our machine is a 2 component system and can inject various types of PU Foam such as Flexible Foam, Rigid Foam, Integral Skin Foam, RIM, etc.
Specifications
Command and Control by PLC
Record up to 99 injection programs – setting injection time and mixing ratio
Production Data can be export by USB port – excel file
Ratio adjustable between 1:1 to 1:3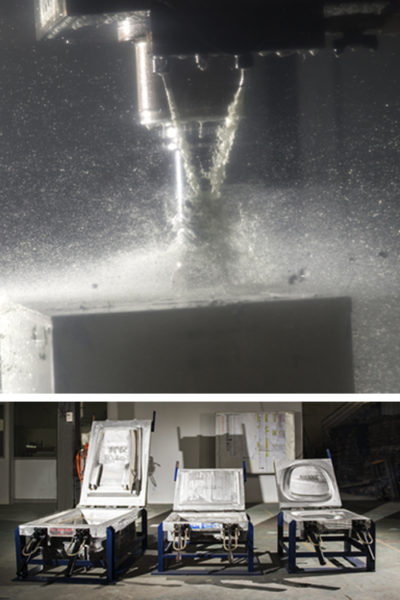 Tool Maker
Great Foam Group offers total solution for Molding, which includes designing, prototyping, and manufacturing. For designing, we have the abilities to verify the CAD data to check the weight and volume, design insert layout for maximum efficiency in production. Great Foam also offer prototyping solution for our customers by using Rigid PU Foam to simulate the fitting.
We have 3 CNC Machines and Aluminum die casting to support the manufacturing of the mold.
Chemical Blending
Because Great Foam serve customers across many industries, it is important that we have the capabilities to produce PU Foam with different properties. Great Foam has invested in our own chemical lab and a team of Chemist Engineer that can develop our own chemical formulation according to customer's requirements.
Insert Maker
Many of PU products requires different inserts for different purposes.Great Foam see the importance of developing and making insert materials. Therefore, we have invested in Laser Cutting Machine, and Tube Bending Machine. This helps us speed up the insert making process and reduce human error that may occur.